February Newsletter - Creating a Safe and Responsive Service Workflow
You've hired the right people, provided training, and they know what is expected of them. But do they have the right tools to safely, accurately and efficiently service your customers? In this issue, we will discuss how Venue Valet is helping dine in Cinemas meet these needs with two featured products,Backlit Call Button with Integrated Pathway Lighting and a Call button Service Queue Screen.
Lighting the Pathway
Venue Valet's Call Button with Integrated Downlighting combines form and function with an illuminated call button, backlit row & seat numbering and a downlight for customer convenience and aisle safety.
Dine in cinemas have unique lighting considerations that non-dine in cinemas don't have to contend with. Pathway lighting used to be just for stairways. But with food runners constantly going across dark rows throughout the movie to service customers, it can be a safety issue for your staff. The downlight also doubles as a task light for patrons to read menus or review their checks.
The Venue Valet Call Button with Integrated Downlighting has a backlit row & seat number indicator that clearly indicates which seat to deliver the customers order and can be configured to light a different color when the call button is activated, alerting the staff when the customer requires service.
Available for installation in any brand recliner because it has its own power supply with dimming capabilities, which can be tuned to the exact brightness that matches lighting requirements. It can be configured in multiple color options and sizes to match your theatres style.
Contact Venue Valet today for more information about this and other products that will help bring a better service experience to your customers.
Ok, Who's Next?
Have you ever stood at a deli counter watching other people get served first, even though you were next in line?
Unfortunately, this is a common problem that customers at dine in cinemas face all the time but can be easily solved. During the busiest, most chaotic time before a movie starts and the first 30 minutes into the feature, your service staff is more focused on just getting to the first call button they see rather than servicing customers in order of wait time.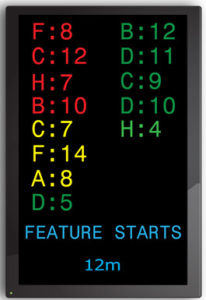 With the Venue Valet Service Queue Screen, there will be no confusion as to which customer should be served next. These dedicated monitors are installed high on the back wall, visible to your staff from anywhere in the auditorium. They are easy to read and get to the point. Unlike our regular CallConnect monitors which display a great deal of information, these screens only display the active seat number, color coded to match their wait time, plus other service critical information such as a countdown timer displaying when the feature starts and ends and other service alerts such as "Drop Checks Now".
These Venue Valet Service Queue Screenscan be easily retrofitted into your existing auditoriums with minimal effort or designed into your next installation plan. Don't let your service staff keep guessing who's next, contact Venue Valet today for more information
For information about these products or to learn how Venue Valet can help you better manage your service workflow and bring better data visibility to your management team, please contact John Holstrom at (512) 694-750 or email holstrom@venue-valet.com